A Distant Echo
UK / USA, 2016, 35mm transferred to HD, sound, colour, 82min
---
"I think that the people of my country are ignorant of our history and I feel that it is my mission to make them know some of it and let the others go on with the rest. I regard cinema not as a consumerist art, but as a historical document for the next generations." – Shadi Abdel Salam c. 1986
---
A Distant Echo is a feature film that explores themes of myth, identity, culture and the construction of history. Shot on 35mm film, A Distant Echo plays with movement and light in deserts across Southern California. The landscapes are layered with a dialogue between explorers, revealing the negotiations between an archaeologist from Cairo with a members of tribe who guard ancient tombs lost in the desert. The scenario for the film was adapted from the 1969 Egyptian film A Night of Counting the Years / Al-Mummia directed by Shadi Abdel Salam, creating a layered story that echoes from ancient Egypt to the diversity of desert ecology and recent archaeological digs for lost Hollywood film sets. Working in collaboration with the musician and composer Tom Challenger a new choral composition was created and recorded for the film, drawing on traditional and modern acoustic techniques to reflect the shifting sands of the desert landscapes.
Screenings:
A Distant Echo
World premiere Friday 28 October 2016
20th Jihlava International Documentary Film Festival (Czech Republic)
A Distant Echo premiere as part of the Opus Bonum competition.
Los Angeles Filmforum (Los Angeles, USA) 15 January 2017
Fronteira International Documentary and Experimental Film Festival (Goiânia, Brazil) 24 March 2017
Courtisane Festival 2017 (Gent, Belgium) 1 April 2017
30th Images Festival (Toronto, Canada) 22 April 2017
71st Edinburgh International Film Festival (Edinburgh, UK) 27 & 29 June 2017
Jatiwangi Art Factory (Jatiwangi, Indonesia) 6 August 2017
UK/ID Festival 2017 (Jakarta, Indonesia) 18 October 2017
DocLisboa (Lisbon, Portugal) 25 October 2017
Leeds Film Festival (Leeds, UK) 14 November 2017
Festival Film Dokumenter (Yogyakarta, Indonesia) 12 Dec 2017
Project development
A Distant Echo was developed through collaborative process. During the production the project was presented live in collaboration with composer Tom Challenger and members of the Colne Valley Male Voice Choir. For more details on the development of the project and subsequent live presentations visit A Distant Echo (live).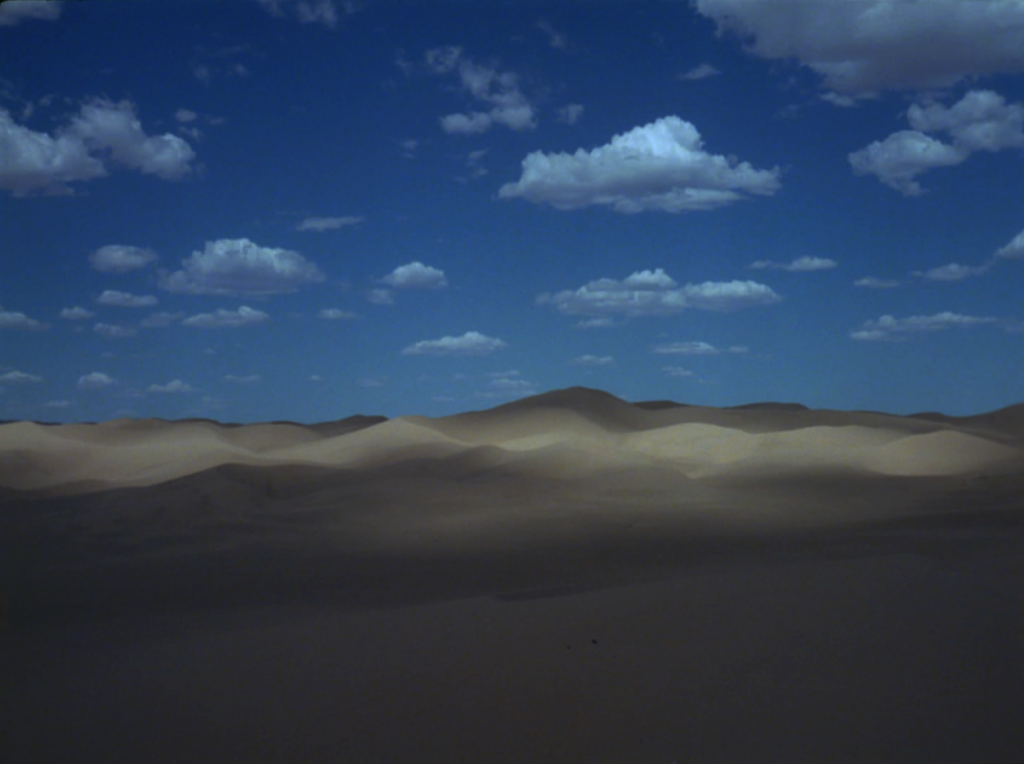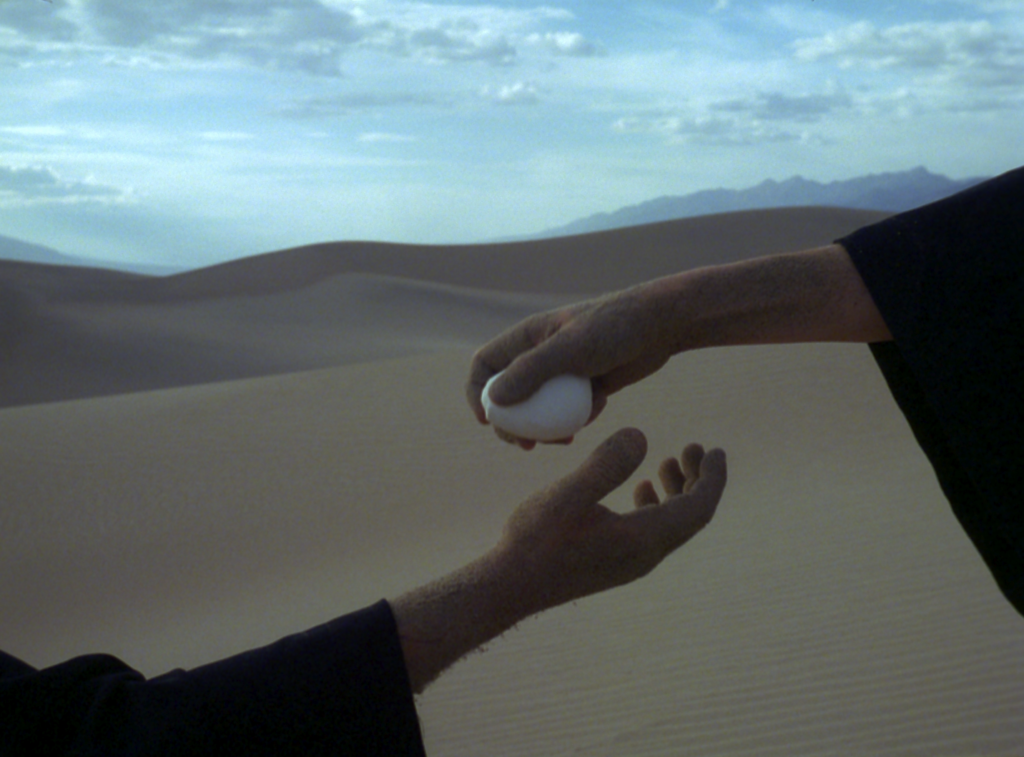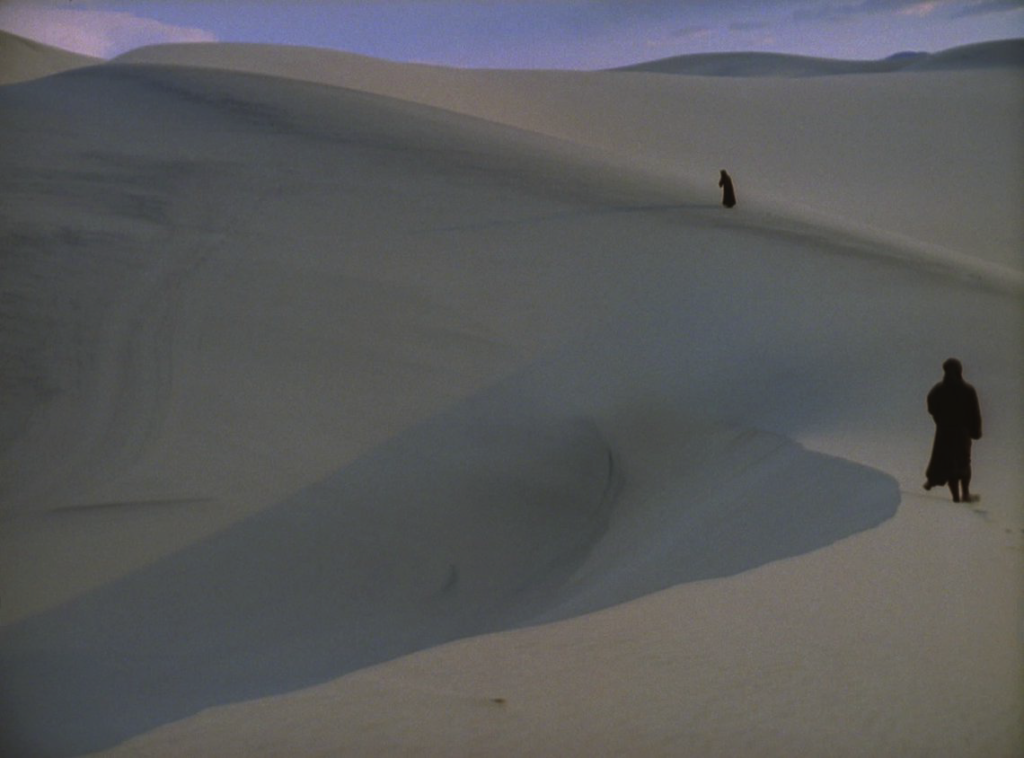 Project credits
Written and directed by George Clark
Music by Tom Challenger
Performed by Colne Valley Male Voice Choir
Conducted by Thom Meredith
Location sound by Lucas Quigley
Sound mix mastered by Alex Bonney
Script adapted from The Night of Counting the Years / Al-Mummia 1969 written and directed by Shadi Abdel Salam
Voices: Stuart Baxter, John Clark, Brian Hibbert, Michael Parkinson, John Smith, Ivan Smith and Jasmine Ellis
Filmed on locations in Southern California, USA at:
Guadalupe-Nipomo Dunes, CA
Kelso Dune Field, Mojave Desert, CA
Eureka Valley Sand Dunes, Death Valley National Park, CA
Mesquite Flat Sand Dunes, Death Valley National Park, CA
Algodones Dunes, Imperial County, CA
Additional scenes shot at The Leeds Library, UK