Handle With Care
2020-ongoing project
Vietnam / UK

Rooted in expanded notions of archives and inspired by Trinh T. Minh Ha's concept of 'speaking nearby,'[1] the project aims to explore means of articulating memories from the personal to the collective, creating new ways to care for history and engaging with distinct collections, their pasts, presents and potential futures. Rather than approaching the archive through conventional notions, the project aims to encourage an understanding of the archive as a living being, a character with its own memories, dreams and desires.
Initiated through a research trip to Hội An, Ho Chi Minh City and Hanoi in June-July 2019, the project has been developed through a growing network of collaborations and exchanges between artist, curators, students and archivists in Vietnam and UK. Central to the project is an exploration of the labour of archives, their work to care for images and documents, preserve and create new ways of thinking about culture and history. The project aims to create a new series of films in collaboration with artists, workers and archivists linking two distinct collections and the day to day labour to safe-guard and preserve the intellectual, cultural, social and cinematic output of Vietnam.
The project is realised through long-term engagement with two collections; the Vietnam Film Institute (VFI) in Hanoi and the An Viet Foundation (AVF) in Hackney.
The Vietnam Film Institute (VFI) formally known as the Vietnam Documentary Film Institute, was established on the 22nd of September 1979 under the Decision 343/CP of Vietnam's Government Council, it is the largest and oldest film archive in Vietnam. The VFI has two branches located at Ho Chi Minh City and Hanoi, Vietnam and the collection is one of largest in Southeast Asia with 80,000 16mm and 35mm film reels and over 20,000 videotapes with titles on local and international cinema. Through this project we have supported artistic research with the Vietnam Film Institute, commissioning a range of artists (Thu Uyên, Linh Hà and Tạ Minh Đức, Vân Đỗ, Nguyễn Hải Yến (Red) and Lam Duy Phương) to spend time in the VFI and develop their own responses and contribute to a new collective portrait of archival labour their.
An Việt Foundation (AVF) set up in 1981 is the largest known archive of the Vietnamese-British community in the UK being preserved by Hackney Archives. AVF was established to support Vietnamese settlement in London after the Second Indochina War, it was a central hub for Vietnamese families providing support with housing, health outreach, English language, and mother-tongue classes. The AVF housed the 'Southeast Asian Research Centre' which was established by Mr Vu Khanh Thanh, the AVF's former Director until its closure in 2017. Working with Hackney Archives the AVF is now being reconstituted as an archive for diaspora communities in London. I have been working as member of the An Viet Foundation Steering Committee (alongside Tamsin Barber, Jabez Lam, Kim Lau, Cường Phạm, Georgina Quach, Vicky Sung, Moi Tran, Toan Vu) to help establish permanent home for the collection as well as document the ongoing work to save and reformulate the AVF archive.
Working with an expanded idea of cinema – as an art of sharing images – Handle With Care proceeds through a growing circle of friendship building bridges between different art and film communities to propose new and experimental approaches to these archival and cinematic imaginaries. Embracing the notion of films as 'tools for conviviality' [2], the project will be led by sharing, making and imagining together.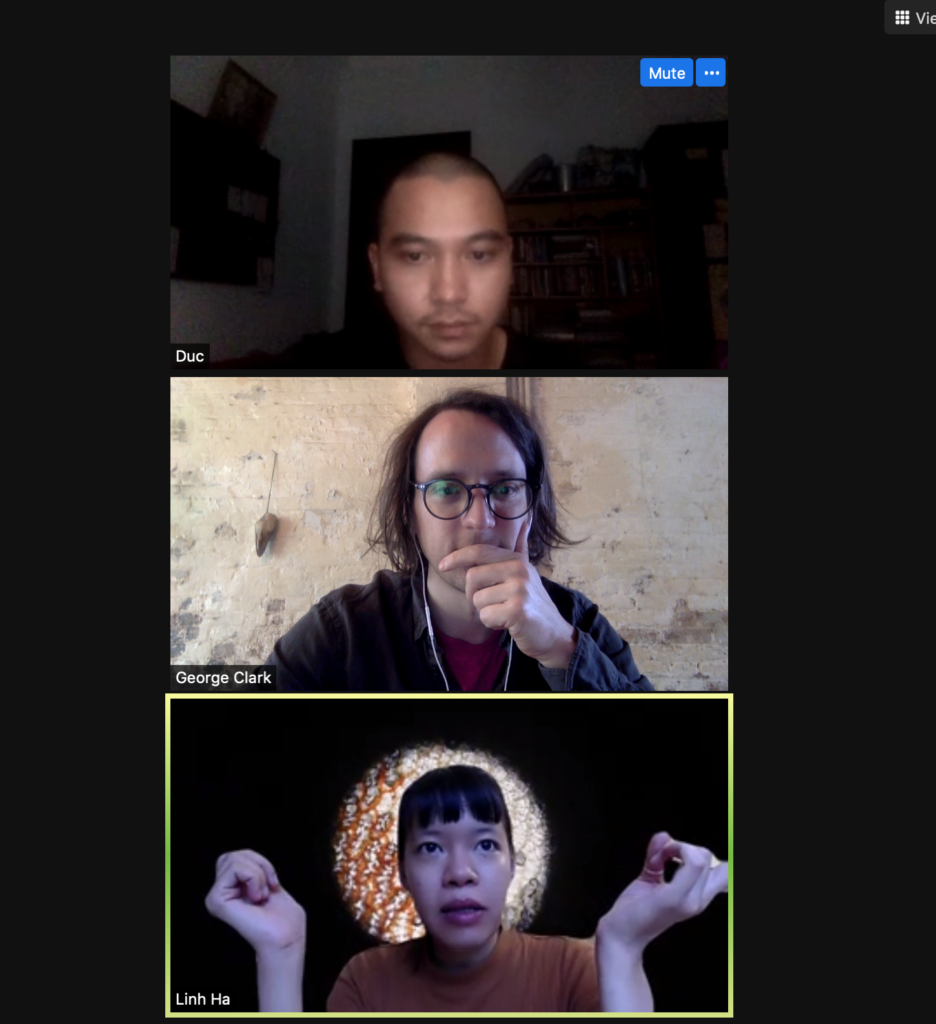 These VFI residencies were undertaken in two periods September – November 2021 and March-April 2022 by the following artists:
Thu Uyên graduated from Kalamazoo College with a Critical Ethnic Studies major. Her most recent works are published in Singlit Station, Asian American Writers' Workshop, Sinister Wisdom and exhibited as a text/image collaboration within the project "tôi viết (tiếng Việt) | i write (in Vietnamese)." She's currently curating a Vietnamese folio for PANK Magazine, and trying to write
precioussummer.wordpress.com
Linh Hà is a self-taught musician who has been active since 2016. Her works aim to enrich the appreciation of the present, the relationships between humans and the connections between humans and nature. She has collaborated with artists from various art disciplines, like acting, contemporary dance, visual and motions. With each performance she invites the audience to experience a sonic, emotional journey and to contemplate essential topics, calling for engagement and reflection on social and environmental challenges.
Her work has primarily occurred in the live realm, having performed at Cryptic Presents 2020 (Glasgow), Blind Signal 2019 (Berlin), LUCfest 2018 (Taiwan), Jai Thep 2018, 2019, 2020 (Thailand) and Quest 2016, 2017, 2018 (Vietnam).  She's also the singer of the live electronic project – Tiny Giant, – with whom she has performed in Vietnam, Thailand, Taiwan, South Korea, Germany, Belgium, Australia.
www.linhhafornow.com
Tạ Minh Đức is a film director and cinematographer graduated from Hanoi Academy of theater and cinema. As a filmmaker and video artist he is an active member of Hanoi Doc Lab as well as the contemporary artists' Nha San collective. Ta Minh Duc's works span video, documentary film, photography and installation. He narrates modern stories based on myths, fragmented histories or fox literature. He captures the realistic yet desperately beautiful moments of the daily. Ta Minh Duc shares his contemplations on the alienation of beings and his skepticism about human relationships. His films were granted awards and residencies, and his video art work has been exhibited in institutions in Japan, Hong Kong, Indonesia and of course Hanoi and HCMC.
Vân Đỗ is a curator and writer currently based in Hanoi. Van is a former member of the curatorial team at The Factory Contemporary Arts Center (Saigon). Since 2021, Vân has initiated and runs several independent projects under 'Curatorial Xà Quần' and 'Te Rẹt' with her fellow artists and curators. In 2022, Vân joined Á Space as Artistic Director to build programs that support young artists and curators based on the potential and existing platforms of Á Space, while developing a long-term project to rethink the possibilities of performance art. Selected exhibitions and projects include: 'Recursive Fables' (A+ WORKS of ART, Kuala Lumpur, Malaysia, upcoming); 'Till Later Letters' (Á Space, Hanoi, 2022); 'Videồ Ạt – A study of video art and hybrid video practices' (2021-); 'Tò he learns how to swim' (Bình Quới, Saigon, 2022); 'Virtual Private Realm' (Manzi Art Space, Hanoi, 2021); 'Within / Between / Beneath / Upon' (The Factory, Saigon, 2021); 'An Ode to the Microscopic' (Dcine, Saigon, 2020); 'Silent Intimacy' (The Factory, Saigon, 2019).
Nguyễn Hải Yến (Red) Red was born in her own country. The dreamscapes containing liquid memories and faces are her materials. She plays with (sign) language(s), water, mirror and emptiness and sees herself as Borges' Funes the memorious after being thrown by a half-tamed horse and becoming physically paralysed and deciding to reduce each of his past days to some seventy thousand memories.
Lâm Duy Phương (Kim) is originally a Hip-Hop dancer and a member of the Southern Hip-Hop group La Différence. Kim's movements is the disentanglement and inspiration from a variety of movement traditions, especially butoh. Kim has won many awards for Hiphop and participated in a number of performance projects, including: Hanoi New Music Festival 2018, Planet Warming Up (performed with Good Morning Vietnam), Krossing Over Arts Festival 2019, Tremplin Contest 2019, [UNDERWATER] x [TKG]> SUNRISE <EXHIBITION 2019; Jò-Joajcx with Alec Schacner and Duy Rùa, Heritage Space 2019, METHOD with H2Q Art 2019. Most recently, Kim participated in the practice in "X-Project" initiated by choreographer Ngô Thanh Phương.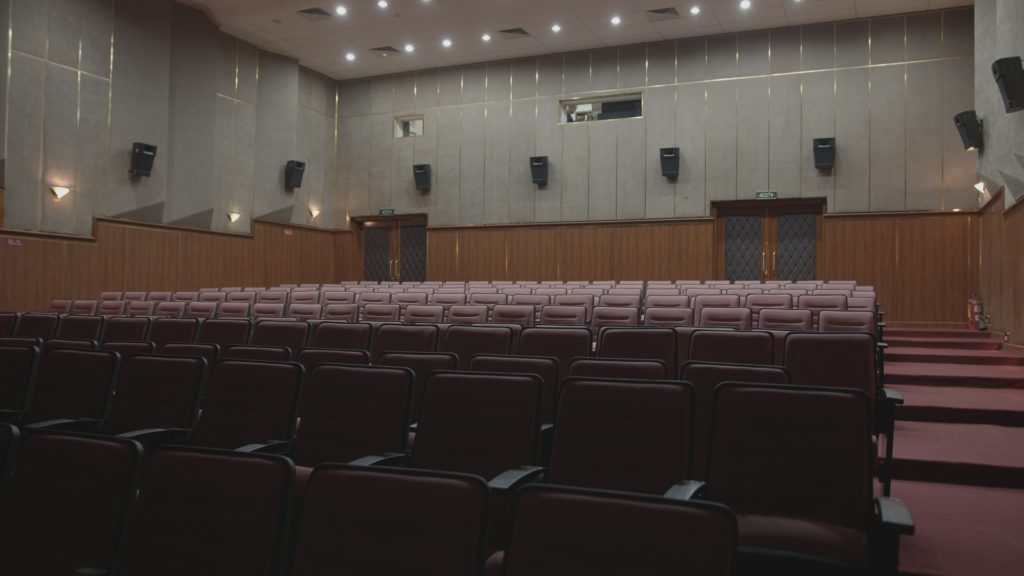 The project has been developed through range of workshops, screenings, discussions and events developed with the project partners. These include: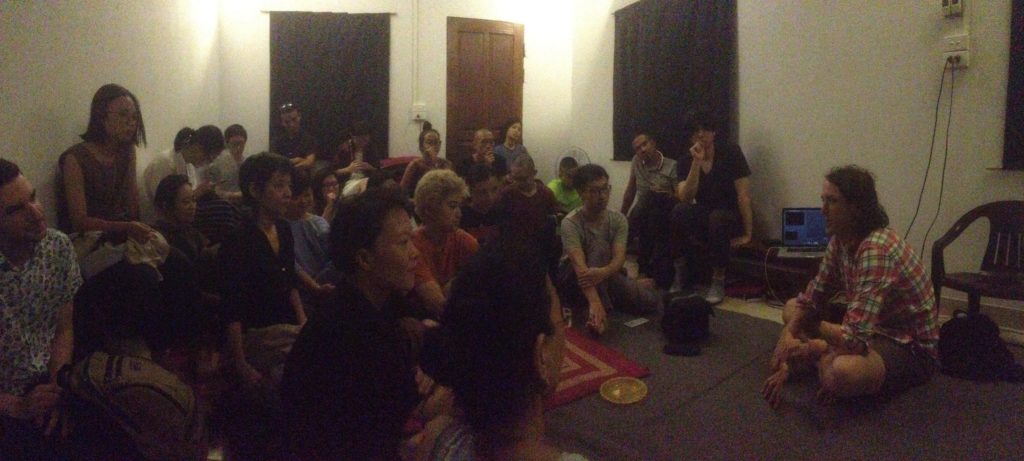 Double Ghosts / Bóng ma kép: Screening & Talk with George Clark
Hanoi Doclab, Vietnam, 2 July 2019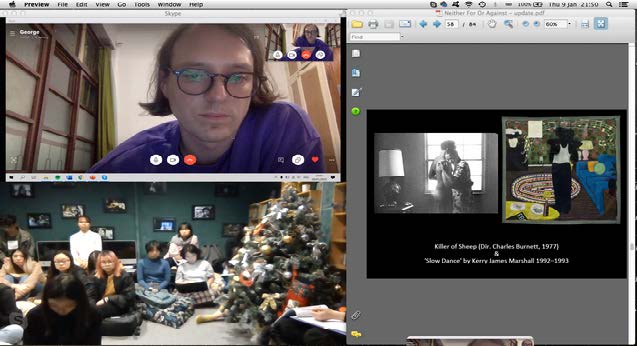 Neither For Nor Against
1st Workshop with TPD Curating Students, Hanoi, 9 January 2020
Moving Image Ecologies: Cinema Archive Factory
2nd Workshop with TPD Curating Students, Hanoi, 9 September 2020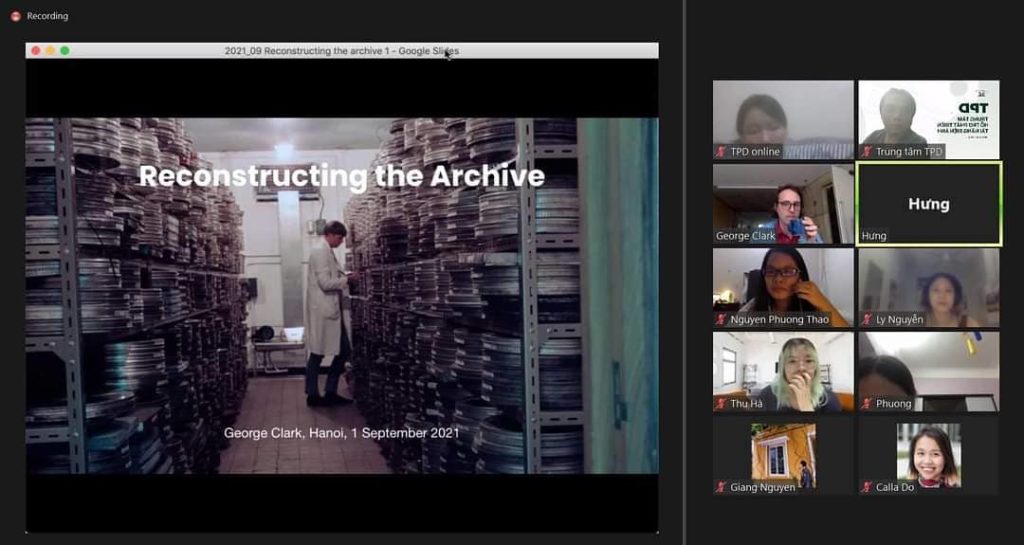 Reconstructing the Archive – TPD workshop, Hanoi
3rd & 4th Workshop with TPD, Hanoi, 1 & 8 September 2021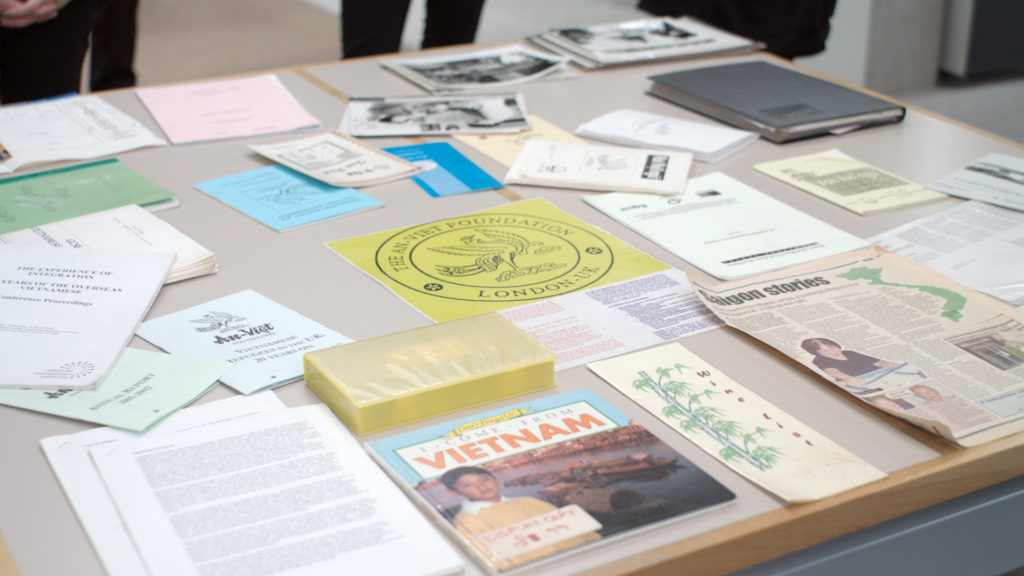 Hackney Major visit to the An Viet Foundation archive project
Arranged by An Viet Foundation Steering Committee and Hackney Archives, 11 February 2022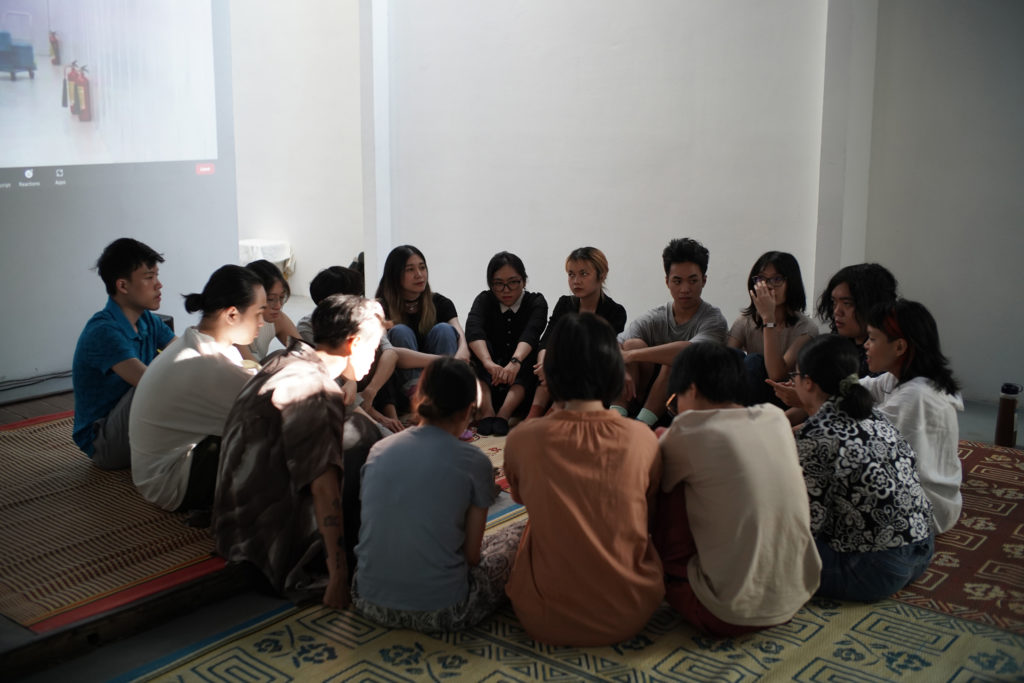 Speaking Nearby: Playing the archive
Á Space, Hanoi, 25 June 2022
Workshop with l ặ n g deep listening session with Linh Hà, poetry reading by Thu Uyên and films by George Clark & Tạ Minh Đức  sharing and developing material from archival residencies in Vietnam.
Footnotes:
[1]  A speaking that does not objectify, does not point to an object as if it is distant from the speaking subject or absent from the speaking place. A speaking that reflects on itself and can come very close to a subject without, however, seizing or claiming it. – Trinh T. Minh-ha, "Speaking Nearby", Visual Anthropology Review, Spring 1992
[2] For me, movies are, first of all, 'tools for conviviality,' to borrow a phrase from Ivan Illich, a means of sharing images and ideas to create a circle of friends, or virtual friends. The size of the circle is less important than the intensity of the bonds among them. – Thom Andersen

Handle with Care is supported by FAMLAB (Film, Archives and Music Lab) Fund as part of British Council's Heritage of Future Past project in Viet Nam, TPD Centre for the Development of Movie Talents and University of Westminster.
Thanks to all the artists who have contributed to this project and for their invaluable support Hải Anh and Nguyen Hoang Phuong at TPD, Trần Duy Hưng and Truong Que Chi, Vân Đỗ at Á Space and the members of the An Viet Steering Committee (Tamsin Barber, Kim Lau, Cường Phạm, Georgina Quach, Vicky Sung, Toan Vu), Jabez Lam, Moi Tran (Hackney Chinese Community Service) and Etienne Joseph and Diana Le (Hackney Archives).