AV Festival: Meanwhile What About Socialism?
http://www.avfestival.co.uk/
3-31 March 2018
I will be presenting new 35mm film work as part of my ongoing project Double Ghosts at the upcoming AV Festival in March 2018. The screening launches a weekend of events 16-18 March exploring the history and legacy of political film, cultural displacement, collective memory and how cinema captures or reflects reality. The following events were co-curated with AV Festival director Rebecca Shatwell to explore these issues in relation to the work of Raúl Ruiz.
George Clark: Double Ghosts
Fri 16 March, 7.30-10pm
Star and Shadow Cinema
Warwick Street, Newcastle, NE2 1BB
starandshadow.org.uk
"Double Ghosts is a new film work by George Clark that responds to the legacy of Chilean filmmaker Raúl Ruiz (1941-2011). In 1995, Ruiz flew to Taiwan to film Comedy of Shadows / La comedie des ombres. The film was shot but never finished. The incompleteness of Ruiz's film is the starting point for Double Ghosts, an ongoing project seeking to think through divergent cultural, social and geographical contexts. Considering the echoes of unrealised political histories from the legacy of the short lived socialist government in Chile to life under martial law in both countries, Double Ghosts attempts to use the space of cinema as a site of projection between the past and the present.
For this site-specific event, Clark will present a selection of new 35mm footage shot in Taiwan and Chile, in dialogue with rare short films by Raúl Ruiz exploring his homeland through the prism of his exile and work by the artists group CADA (Art Actions Collective) made during the military dictatorship in Chile."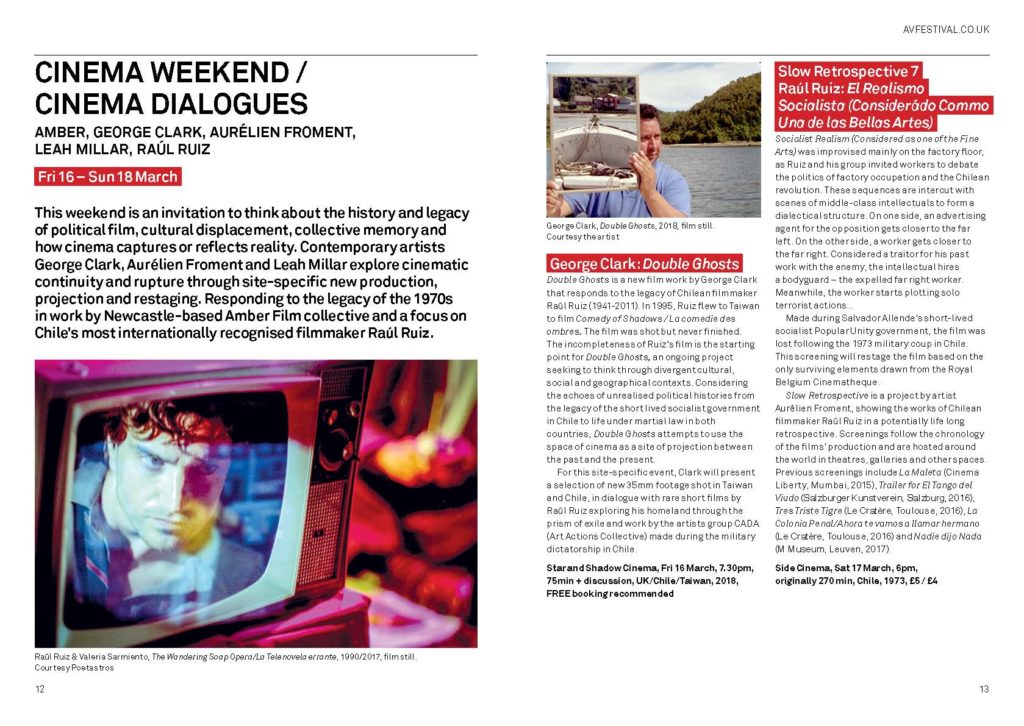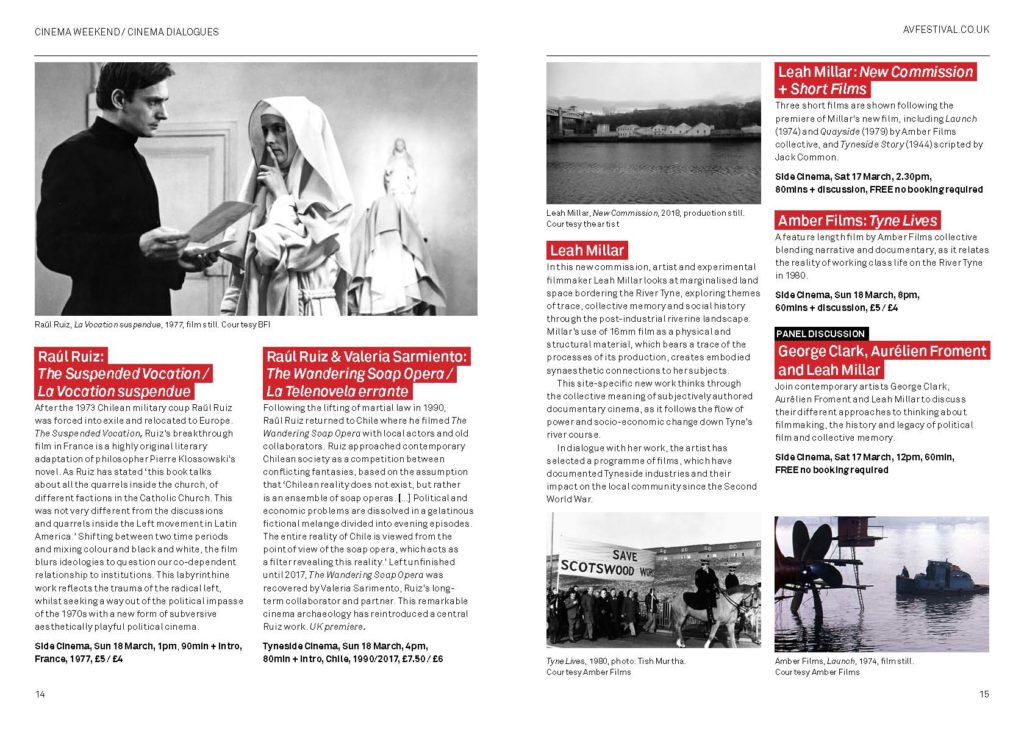 George Clark, Aurélien Froment and Leah Millar: Panel Discussion
Sat 17 March, 12-1pm, Side Cinema
Raúl Ruiz: El Realismo Socialista (Considerádo Commo Una de las Bellas Artes): Slow Retrospective 7
Sat 17 March, 6-10pm, Side Cinema
Raúl Ruiz: The Suspended Vocation / La Vocation suspendue
Sun 18 March, 1-3pm, Side Cinema
Raúl Ruiz & Valeria Sarmiento: The Wandering Soap Opera / La Telenovela errante
Sun 18 March, 4-6pm, Tyneside Cinema